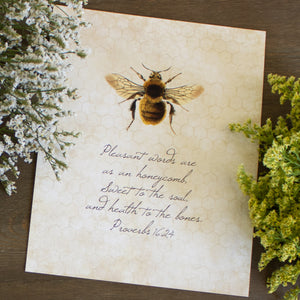 A subtle honeycomb background and a vintage honey bee with Proverbs 16:24 "Pleasant words are as an honeycomb, sweet to the soul, and health to the bones." A good daily reminder to be sweet!

Giclee fine art print on high-quality, thick matte paper with a subtle watercolor texture.
*Please note that, depending on the size you choose, prints may be cropped slightly different than the print shown.